Ever since I found out about it I've wanted to visit the location of Andersonville. I was finally given that opportunity this week, as fellow paddlers Alan Russell and Jim Leavell joined me for an early week trek out to the island. With this week's paddle I was able to add another check to my list of South Carolina ghost towns.
Stephen and I had done some previous scouting in this area. Stephen's brother-in-law, Jim, owns a barbecue place nearby, and he provided some valuable information about the area. Since that time I had been looking for the optimum launch site for a trek over to Andersonville.
First a bit of history…
There are several Andersonvilles. The more notorious one is further down in Georgia, and was the site of a brutal Civil War prisoner of war camp. This is not that town.
The South Carolina town of Andersonville was named for Robert Anderson, an early settler. The town was settled at the confluence of the Tugaloo and Seneca Rivers, right where the Savannah River begins. Elias Earle, an early settler of Greenville, was instrumental in the development of the town, as were his sons. According to a National Register report on Anderson County…
In 1801, Samuel Earle established Andersonville from 340 acres he had purchased from Jacob Mauldin. Robert Anderson, for whom the town was named, Samuel and Baylis Earle served as commissioners who laid out the town. Located at the juncture of the Seneca and Savannah Rivers near Harrison's Ferry, the town served as an important trading center. Boats carrying cotton and goods obtained from the Indian trade such as pinkroot, snakeroot and ginseng traveled down the Savannah to Hamburg and overland to Charleston. The town had several factories including the Southern Clock Company, an iron foundry, cotton and wool factories, and a gun factory, and its commercial area included a tailor, wagon, and shoe shops. Other facilities included a cotton gin, and flour, grist, and saw mills. By 1812, Andersonville also had a female academy. Andersonville predated the later district and county seat of Anderson, but was severely damaged several times due to flooding, and did not survive into the twentieth century.

Dickson, Journeys Into the Past, pp. 51-54; Mills, Statistics, pp. 674-5.
The report references statistics from Robert Mills Atlas of South Carolina. That 1825 atlas shows Andersonville at the juncture of the rivers.
Floods along the rivers were devastating, and by 1893 the post office had closed. By the late 1800s the area was a favorite picnic spot, and newspaper accounts refer to the area as "old Andersonville."
Even today, clocks from the old Southern Clock Factory sometimes come up for auction.
As for the town itself, it's long gone. The waters of Lake Hartwell inundated the town site and the location is now submerged. Andersonville Island remains just to the north of the old town location.
I always like to do a bit of research before heading out on a paddling trip and/or ramble. For this one, Google Earth indicated some interesting landforms along the way. There were some very straight land bridges that indicated old road beds. The Google Earth imagery was taken when the lake was very low, and the north end of the island clearly shows a road that had been submerged. Topo maps of the area match a road with these landforms.
There is a geocache on the island, and along with a brief history of the area, the description states that, "The Island still has ruins of the buildings that once stood there. It is a great place to explore!"
So, with thoughts of an island full of interesting ruins, we set out. By 10:00 am we reached Jarrett Landing, the closest launch I could find to the island. We would only have a half-mile transit across the lake, which should give us plenty of time for exploration.
We had the landing to ourselves. We unloaded the boats and got things ready for the short paddle across. Unfortunately, some idiot had cleaned a ton of fish and left the carcasses right next to the boat ramp. It was a stinky mess, and made us rush our boat preparation somewhat in order to escape the stench.
We got underway and paddled across slightly choppy waters. As I had hoped, the paddle was fairly short. There were a couple of boats out, but not much traffic at all. I could just imagine this place on a Saturday.
There is a smaller island just south of Andersonville Island, and it's actually closer to the submerged town site. We decided to make that our first stop, thinking it might be more likely to find remains there. We pulled up to a protected, albeit steep bank, where the geology threw me off a bit. It looked like the typical red mud we have in the area, but it was hard-packed and easy to walk on.
We climbed up the bank to the interior of the island. There were so many deadfalls and downed trees that it was almost impossible to discern any remains of a town, or otherwise. I almost went back to the boat for my machete but figured carrying that AND my camera would be a problem.
Eventually we made it to the south end of the island. The space opened up a bit more, and there was an old rusted coal bucket embedded in the ground. While it looked like an antique, I'm not making any connection between this and the old town. Even as old as it appears, it's far too modern. A period piece would have completely rusted out. Unfortunately, that was the closest we came to finding an artifact.
From this vantage point we could look across the lake to the town site, about 400 yards south of us. I was tempted to paddle out there just to say we had been to the town, but we wouldn't have seen any more than where we were. An orange marker was in the approximate spot where my GPS said the town should be.
We found a lovely beach that would have made an excellent landing point. Above that was an open space that had obviously been used for camping. Unfortunately, there was also trash dumped by inconsiderate visitors.
I was not too keen on bushwhacking back across the island. Instead, we decided to wade along the banks. There were lots of large rocks and more of the red clay. Infused with that were bits of mica. At one point Jim stopped to hold his GoPro underwater to catch the swirls of mica flecks disturbed by our passage. Alan, on the other hand, had to pick up some of the flat pieces and see how well he could do skipping them across the lake.
There are actually two smaller islands south of Andersonville Island. At low water a sandbar connects the two. The water didn't appear to be at its highest, but there did seem to be enough water across the sandbar for our boats. We relaunched and headed that direction. I touched bottom once or twice, but was able to clear the sandbar. From there we continued on across the small channel toward the big island.
The water was surprisingly clear. The south bank of Andersonville had more of the red rocks, and the contrast with the clear greenish water was stark. There were a few eroded cave-like features, similar to those I've seen up at Lake Jocassee. We found a small landing area and pulled up. I could imagine the area being a road bed. Just out from our landing was a pile of rocks stacked in an unnatural fashion, but again, I wasn't going to attach any historical significance to it.
We began exploring the interior. To the northwest of where we landed the terrain climbed steeply. Going was tough across the underbrush, and, again, I was wishing I'd gotten the machete out of the boat. While I could imagine a stately home at the top of the hill, there was no indication one had been here. I was thinking that it might be better to come back in early March, when the the undergrowth is clearer, and there might be things like daffodils to indicate home places. What we DIDN'T find were any of the ruins mentioned by the geocache description or other articles I'd read.
Somewhat frustrated, we headed back toward our boats. There was a pile of debris just above the little beach area that prevented us from seeing what was beyond when we landed. As we descended the hill I could see that the indentation continues inland. A flattened area continued on between two embankments. We had found our road bed, and once we spotted it, it was quite obvious.
When I looked back at our GPS track with a topographic overlay, it confirmed that we had at least found the road bed.
So far we had been doing more exploring on foot than by water. We had lunch on the small beach, then decided to continue northward by boat. It seemed that the wind had been coming form the northeast, so we decided to paddle along the western edge of the island. The plan was to try to circumnavigate it. After all, the island was only three miles long and we had paddled much further distances.
Along the western edge we saw several wide beaches that would be perfect for just hanging out. One of these did have a couple of tents set up. It was tempting to pull into each of them and explore, but we would not have been able to make any headway on the water if we kept stopping. Even so, I thought I could spot the road running along the ridge line just above the beaches. It was all I could do to resist checking it out.
We continued on our trek. Occasionally we would pull into a deep cove to check it out form the water. At one point Alan found a narrow isthmus where we could have made a portage to the other side. However, he said there was an unnatural pile of rocks that would have made it a problem. Seems we would have had to cross the old road bed, and the rocks were part of that structure.
As we paddled northward we encountered a sailboat making very slow headway. In fact, we were paddling much faster than it was moving. We rounded cove after cove, and eventually reached a beach that looked like a good place to stop and do more exploration. Alan and I headed inland, while Jim relaxed down near the boats. We eventually made it to what we thought was the other side of the island. There were areas that looked like they could have been part of the road bed, but we just weren't sure. Looking back out the GPS track, I now see that we were just on the other side of the cove, and were nowhere near the road. Even so, there were a few fairly clear trails.
Back at the boats Jim pointed out a nest of turtle eggs that had either been disturbed or had hatched.
I decided I needed to check our location. When I pulled out my phone and looked at Google Maps I saw that we were barely a third of the way along the island. There was no way we were going to make it all the way around. Add to that the fact that clouds had been building, we decided that it was time to abandon our quest and head back to the landing.
We took pretty much a straight route back. The clouds continued to threaten, and there was rain to the south and west. On we paddled without incident, except for one inconsiderate jet ski that buzzed us fairly close. We made it back to the truck and loaded up the boats, avoiding any rain. We had paddled 5.11 miles. It was shorter than one of our usual trips, but we had done a good bit of exploration on foot. Also, by the end of it my back was aching because my kayak seat had come loose and couldn't be adjusted. I'll have to fix that.
Having now done the trip, I think I'm in agreement with my brother Stephen. He wanted to take a motorboat out to the island so he could bring along his metal detector. Now seeing how long the island is, I think a motor boat would be a better choice for getting to remote spots. I definitely want to visit again, possibly in early spring.
This wasn't the end of our explorations for the day, though. Jarrett Landing is reached by driving down Providence Church Road, and we had passed the old church on the way in. We decided we had to check it out as we left.
Providence Methodist Church is a simple white frame meeting house. The structure is well-maintained, and has green wooden shutters and and doors. In the early 1800s camp meetings were held at this location and at another closer to the river. A church was established at Ruhamah, but the congregation outgrew that one and the Providence Church was constructed in 1860. Services are still held at the church during the summer months only for lake visitors.
We noted that vinyl siding now covers the building. I'm sure that's one reason why this structure isn't on the National Register.
The cemetery had lots of old unmarked field stones. One heap of stones bore the initials "R. I. S." While we didn't see any signature stones, there were a couple that were marked with "S. M.", which could have been a stonemason's mark.
If I had been paying attention, I would have learned that 37 graves were moved to this location from Shockley Ferry Road during a road widening project in 1963. Many of these were paupers' graves, and were re-interred in a mass grave at Providence. I saw the small sign, but didn't go over to investigate. Here's a photo from the US Genweb site: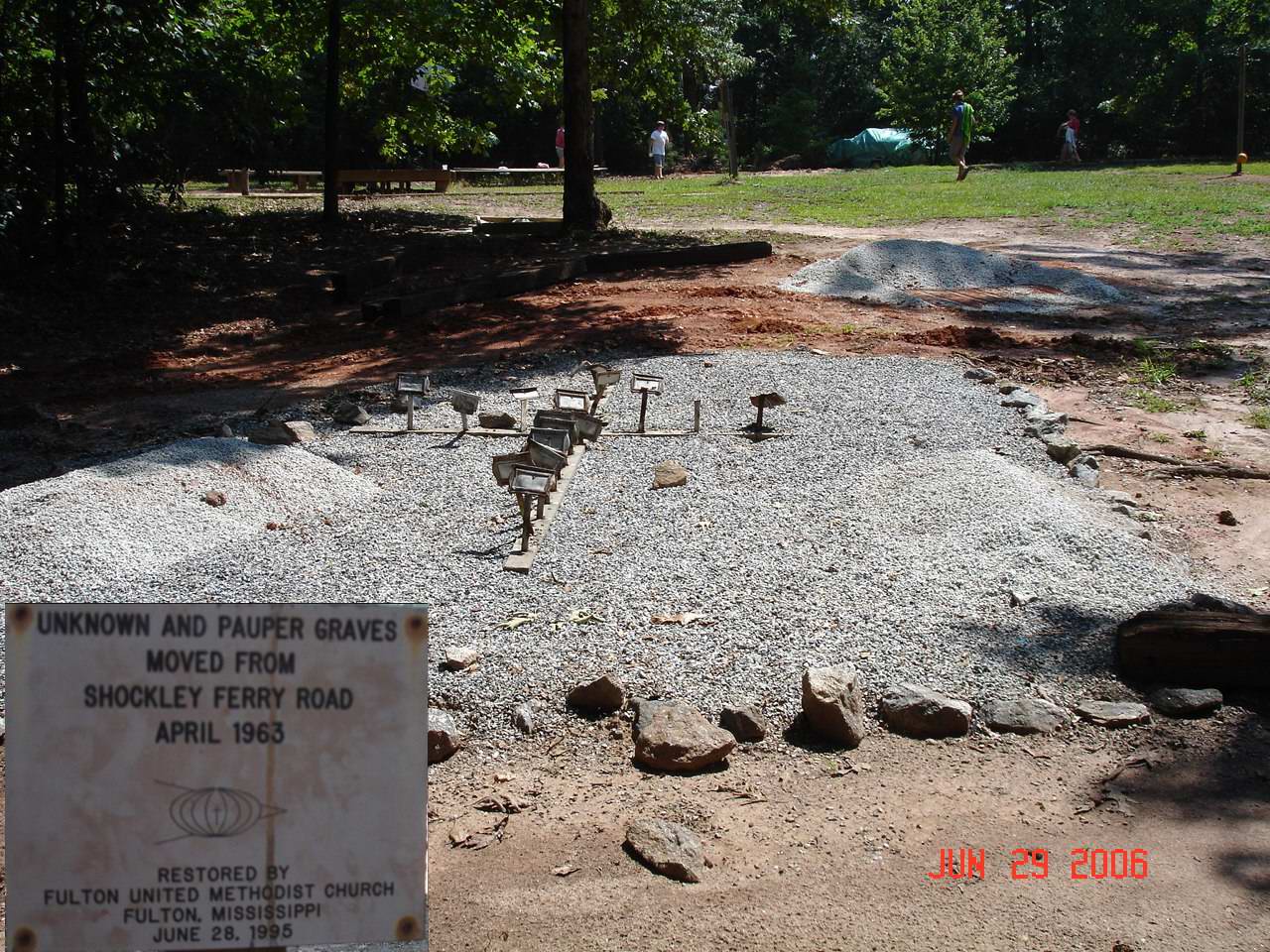 We followed Providence Church Road back out to Highway 187. At the intersection of those two roads is Roberts Presbyterian Church. While the current church building is a typical brick structure built in 1937, the church itself was established in 1789 and is one of the oldest churches in Anderson County. It was often known as "Simpson's Meeting House" after the first minister, Rev. Robert Simpson. The historic cemetery contains the grave of Simpson, as well as many other historic headstones. We had to stop to investigate.
There were many more historic headstones here than at Providence. There were several slab stones, some with signatures. It looked like the primary stonemason was a W. W. White, and not the W. T. with whom we were familiar. One of the stones had weathered so that the W. W. looked more like R. D.
There were a couple of others with which I was not familiar.
There were several Revolutionary and Civil War veterans. Alan pointed out that it looked like someone had come through and painted all of the stones with gray paint in order to "preserve" them or something. The result was hideous. The white stone began showing through the gray, and it would have been better if they had just left it.
There were several above-ground slabs. On the whole, these had not survived as well as the vertical stones. I've noticed that in other cemeteries. The writing is much more weathered and illegible.
There were a couple of oddities that caught my eye. The first was one that the deceased was "killed by R. R. accident."
The second was a rough-hewn stone near the church. Elizabeth Donald's stone looked like it was carved by hand, but her husband had an elaborate obelisk. The two were stark side by side.
By this time we really were getting tired. Add to that the fact that it was also very hot and humid, and it was time to head home. We'd had a good, if not completely satisfying outing looking for our ghost town. I think we will need to come back with a motor boat.
Here's the slide show of all the photos I took:
[fsg_gallery id="51″]