We are blessed with some fantastic kayaking venues in South Carolina.  And, I've been privileged to kayak in the Puget Sound several times, a couple of locations in Florida, and once even in the Bahamas.
Even so, there are several "dream locations" I would love to paddle.  I'd love to go further northwest, and do part of the inland passage, and paddle around some glaciers.  I'd love to kayak through the Boundary Waters.
My cousin and Laura's colleague, Tony Arrington, is this week on a 10 day excursion down the Green River in Utah.  I had an invitation to go with him, but my schedule just wouldn't permit it.  I guess that's what's got me thinking about dream venues.
Dream Venue One  – Halong Bay, Vietnam
Halong Bay featured prominently in the James Bond movie "The Man with the Golden Gun."  Located in northeastern Vietnam, it is characterized by unusual limestone karst formations and interesting coves and caves. Looks like it would a photographer's dream, as well.
Dream Venue Two – Maunsell Army Sea Forts, Great Britain
I just found out about this one from Atlas Obscura.  The Maunsell Sea Forts were defensive positions at the end of the Thames River during World War Two.  They look more like something out of War of the Worlds, or perhaps Myst.
Unlike Halong Bay, this would be more of a destination paddle. It would be five miles out and back across a bit of the English Channel.
Dream Venue Three – Milos, Greek Islands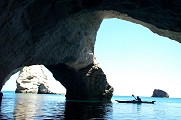 A Mediterranean venue sounds like the perfect way to round out this wish list.  Milos is home to the Venus di Milo.  As a kayaking venue, there is crystal blue water, interesting volcanic formations, and lots of sea caves.
So, I guess I'll keep playing the lottery, and maybe one day I'll get to hit at least one of these destinations.