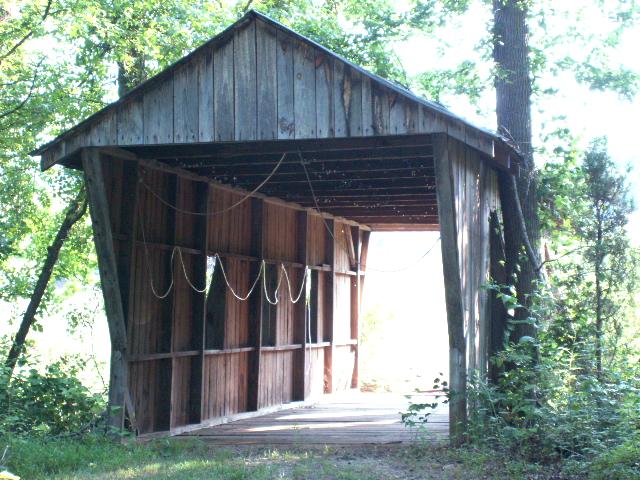 Well, it looks like my exuberance was premature. I was able to find some additional information on the Internet which lists this bridge as being of fairly modern construction.
Dale. J. Travis operates a website devoted to round barns and covered bridges, both fascinating structures. He has a comprehensive listing from across the US, not just of historic structures but of modern construction as well. Travis lists thirteen bridges for South Carolina, including Campbell's and this one on Mayfield Road. Most of these are decorative, and are found on golf courses and gardens.
According to Travis' information, the Mayfield Bridge was built in 1991 and is about 25 feet in length. I'm guessing that it hasn't been kept up since that time, so the tin roof has rusted, making it look older than it is.
Which brings me to the statement the man on the side of the road gave me. The only thing I can think is that he was referring to the actual roadway bridge. Who knows? Then again, maybe Mr. Travis has incorrect information. However, with every reputable reference saying that Campbell's is "the last", it's hard to refute the evidence that this isn't an authentic structure.
And this brings up yet another question…
How do we define "authentic?" On Travis' list the earliest is, of course, Campbell's Bridge, but the next earliest is a bridge in a subdivision in Greenville built in 1985. Will there come a point in time when that bridge and the Mayfield bridge are considered authentic? It depends, but I don't think so.
First the National Register of Historic Places offers four categories under which a structure might be classified (per Wikipedia)…
For a property to be listed, it must meet at least one of the four NRHP key criteria.[21] Information on architectural styles, association with various aspects of social history and commerce, and ownership are all integral parts of the nomination. Each nomination generally provides a narrative section which describes the site or building in detail and justifies why it is historically significant. The NRHP criteria fall into four categories.

To meet the "Event" category, criterion A, the property must make a contribution to the broad patterns of American history. Criterion B, "Person," is associated with significant people in the American past. The third criterion, C, "Design/Construction," is affiliated with the distinctive characteristics of the building through its construction and architecture, including having high artistic value or being the work of a master. The final criterion, D, "Information potential," is satisfied if the property has yielded or may be likely to yield information important to prehistory or history.[19] The criteria are applied differently for different types of properties, for instance, maritime properties have different application guidelines than buildings.[21]
Perhaps if these structures stick around long enough they may fall under the A category. However, to be considered an authentic covered bridge it must have been originally designed to handle regular traffic as part of a public roadway (just my guess, no citations available.) Given that criteria, the Mayfield Road, the subdivision bridge, and all the golf course bridges don't qualify.
So, I guess Campbell's Bridge retains its lonely status as the last remaining covered bridge in South Carolina, as long as the definitions are clarified.