Dwight and I had a day available in common, so we decided to do some exploring. I've been trying to work through my list of locations of ghost towns, seeing if there is anything of interest at these locations – ruins, an old church or cemetery, or some actual buildings. I had several possible sites in Lower Richland, Sumter, and Kershaw Counties.
As is typical with one of our expeditions, we didn't get to all of the spots we had marked on the map, and we found a few new interesting places along the way. Plus, I got a chance to try out my new GPS (which is basically a larger version of my old GPS.)
Minervaville
First on my list of places was Minervaville. It had an interesting, but somewhat brief history in the early 1800's. I really didn't hold out a hope of finding anything there, but wanted to check it out anyway.
In the late 1700's and early 1800's Minerva Societies were all the rage in the United States. These organizations promoted the ideals of the Roman goddess of wisdom. Typically the societies acted as patrons of the arts or promoted public education. One such society organized in South Carolina and eventually led to the establishment of the Minerva Academy in Richland County in 1802.
For awhile the academy thrived and a small village developed around the school. There was a depot, and according to some reports, even a billiard hall and bowling alley. It was these latter pursuits that caused the most concerns.
One historian had an interesting take on what happened to the town. Apparently the local planters weren't too keen on the school…
Education, for example, was expensive and could increase taxes. Also it might well spread to blacks, and any center of activity in a rural landscape (even a schoolhouse) could attract a storekeeper who sold whiskey. On a visit to the site of old Minervaville in the summer of 1853, diarist Samuel Leland remarked that here once there had been 'a considerable little village' with an academy and several large stores that were 'the meeting place for all of the Planters & idlers for miles around.'
The report goes on to say that the town was, "A lively setting famous for riotous brawls almost every evening, the ground now was planted in peanuts and potatoes, the would-be town ploughed under by members of the Hopkins family."
The school was closed in 1834 and the town died out. The post office closed in 1835, and soon all activities moved to nearby Hopkins.
Dwight and I found Minervaville Road, then turned toward the coordinates I had marked. There we found no depot, no billiard hall, nor a bowling alley. We found a historical marker, lots of ranch-styled houses on lots of nice lots, and the only possibly den of iniquity was a closed up recording studio.
Hopkins
We headed a few miles west to the community of Hopkins. I had the Hopkins Graded School marked in my GPS, along with the Hopkins Presbyterian Church across the street. As we approached I saw signs for Hopkins Elementary School and saw a rather modern building. I began to wonder if I had been mistaken, and if the old school was still there. As we made the turn, I spotted a building with a bell tower on top. Right across from it was the Presbyterian church. We pulled over to check it out.
The school was a bit of a mystery. Apart from the small bell tower, nothing else architecturally looked like a school. It almost looked like it was being used as a residence. There were No Trespassing signs on the grounds.
I was able to find some information on the SC Archives page, but this building looks more like the one listed as the "teacherage."
I suspect that the actual school is where the current elementary school is now located. Here's what it looked like:
However, this building is listed on the National Register of Historic Places as the school.
Next door to the current elementary school and across the street from the "teacherage" is Hopkins Presbyterian Church. This church is no longer in use, but is on the National Register of Historic Places. This building was constructed in 1891 for a Methodist congregation which folded. In 1919 a Presbyterian congregation moved in.
The church is a simple single front gable meeting house styled church. There are no Gothic touches and no stained glass, but there is a stylistic arrangement of windows at the rear behind the pulpit. Using my GoPro I was able to get a couple of shots of the interior.
There is a small cemetery behind. There weren't any really outstanding headstones, but there were a couple of condiments and a Green Bush.
From the school we drove on into the community of Hopkins. It appeared to an older, but active community. There was one building that looked like a modern-era abandoned store, and an interesting looking food truck.
Give past experience with quirky kitchens, I'm betting that Glory Kitchen has some really good eats.
Time to continue our travels, though. The next closest point I had marked in the GPS was Siloame School. We found the location. It looks like a remodeled community center located right beside and across from two Baptist churches with the same name. Dwight commented on this.
As for the school itself, in its current form it wasn't very impressive. It was definitely the same photo as the school in the SC Archives, so we were in the right place.
While it has the overall appearance of a Rosenwald school, I couldn't find any record of it. I only snapped one photo quickly out the window of the car.
Eastover
One of my readers had suggested Eastover as a possible ghost town. I had already ruled it out from looking in Street View, but there were still some cool places I wanted to check out. So, from Siloame School we skirted the southern edge of McIntire Air Base, crossed over Weston Pond, and made our way to town.
What we found was not a ghost town, but was far from it. There was a small strip of stores on the west side of the railroad, and a couple of historic buildings to the east.
The east side was of more interest. The first building, identified as the J. A. Byrd Mercantile on the National Register site, had marble columns and intricate scroll work. There were fleur-de-lis on each of the columns. It looks like the wooden wall behind the columns were added later.
The second building was one of those interesting angled buildings that I love. This was the Farmers and Merchant Bank Building, also built in 1910. Apparently it also served as a post office at one time. It looked like it was undergoing renovations.
Zion Episcopal Church Ruins
We wrapped things up on Main Street, but I had another place nearby I wanted to check out. On Highway 263 just out of town we found the remains of Zion Episcopal Church.
The church was founded in 1846, and this building was constructed in 1911. Unfortunately, it burned in 1992. Since this was such a recent event, the bricks seemed like they were in great shape. The area had been converted into a memorial.
The historic cemetery was small, but had some interesting headstones. There was one signature stone from a new carver – E. T. Viett of Charleston.

The church had been on the National Register, but was delisted when it burned. Here's what it looked like: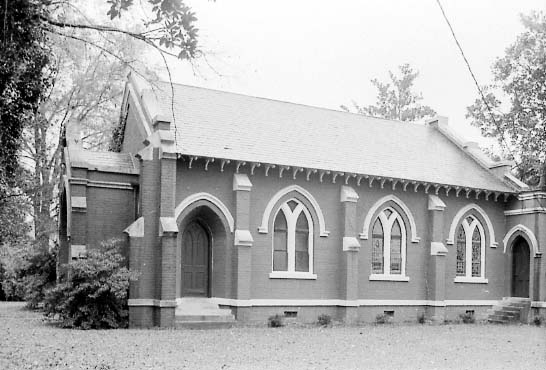 It's very similar to McCarter Prebyterian where I worked, and hundreds of other small brick churches throughout the state.
In addition to my GPS waypoints I had my trusty copy of South Carolina One Day at a Time. It indicated another interesting church north of town, so we set off. However, we had an unexpected surprise along the way. A couple of blocks out of town on 263 we spotted an old abandoned school. We decided we had to check it out.
Webber/Eastover School
At first I thought this was one of the Equalization schools. It has the right architecture and was from the right era. It certainly looked right.
The school is, in fact, listed on the "Known Schools" page of the SC Equalization Schools website, but it's listed as Eastover Elementary School, and is designated as a "white" school. However, the road just on the other side of the school is Webber School Road. On the south side of town there is a Webber Hi Road which leads to a modern elementary school called Webber School.
Now I was really confused. There is a Webber School listed as a Rosenwald School, but it looks nothing like the one we found.
The school was open. Dwight walked around, and wandered inside. There was ruin and decay, and for some reason it didn't really feel like a school. I looked down and spotted broken tiles, and the first thing I thought was…asbestos. I left rather gingerly.
Doors were open on all sides. Around back there was a very illegal dump. With a low income housing spot right next door I started to get a very creepy feeling. I saw that Dwight had made his way back toward the car, and I decided to do the same.
Saint Thomas Church and Mount Zion School
We continued on 263 until we saw sings for Saint Thomas Church. This led us onto a dirt road, and then another branching off of that. Soon we spotted the small white frame church, approaching it from the rear. It was a single-gable white frame structure like Hopkins Presbyterian, but with green Gothic arched windows. There was a modern brick building to the side, and a wooden bell tower with a rope. Dwight wanted to ring it.
Unfortunately, there was no way to get a view of the interior.
Near the bell tower was a monument with some rather weird inscriptions. The stone was in memory of a deacon and a priest, and had the following cryptic comments:
You, the divine child of the heavenly Fish,
Keep pure your souls among the mortals
Because you have received the immortal
Fountain of the divine water…
…and it gets weirder from there.
The church was constructed in 1892 as an outreach mission to the freed African American population. It is listed on the National Register of Historic Places.
The cemetery was a considerable way off from the church. Dwight and I headed that way. A small fenced area with a plaque caught our attention. Inside the fence were steps – all that remains of the Mount Zion School, aka Saint Thomas Episcopal Mission School, once associated with the church. The sign listed former teachers at the school.
Here's what it looked like in its prime. It was a very simple, one-room structure.
Both the church and the cemetery appeared to still be in use. There had been a recent burial, and one grave was covered with flowers. There were no signature stones here. The place was bleak. Some of the graves originally had wooden crosses, and these were now replaced with metal crosses.
Our day was just getting started. We still had several other locations, and we had to find lunch somewhere. That will be covered in another post. In the meantime, here's a map of the locations mentioned above.